2022-23 Speaker Series - Michael Corvese - Where Did The Moon Come From?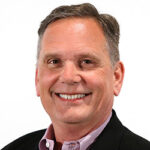 Michael Corvese has been looking up at the sky for almost 40 years.  He is a member of the Executive Board of Directors for Skyscrapers, Inc. (Amateur Astronomical Society of Rhode Island) and Chairmen of the Program Committee.  Recently retired, Michael has had the opportunity to devote more time to his favorite hobby.  Primarily a visual astronomer, Michael has enjoyed observing deep sky objects, planets, double stars, and carbon stars from his backyard in Portsmouth, RI.  His recent interest in the Moon has led to some interesting study and observation of our nearest celestial neighbor.
Where Did the Moon Come From?
Many of us take the Moon for granted or despise its presence as an interference to our more "serious" astronomical observing and/or photographic pursuits of "more interesting" objects. But the story of the Moon and how we arrived at our current thinking on its origins is an interesting one.  Beginning in ancient times, through the age of enlightenment, and into modern times, several theories of the formation of the moon have been put forward.  We'll look at these theories and the people who developed them, leading us to how we understand the formation of the Moon today.