Our Observatory Team opens up the Moore Observatory at FSW Charlotte Campus (26000 Airport Road, Punta Gorda) on the third Friday of each month.
Observation sessions typically begin about 30-45 minutes after it is dark enough to see the stars and continue as long as stargazers linger. Prior to complete darkness, visitors can not be admitted into the observatory as the equipment needs to be setup and aligned with the stars each time but early arrivers are welcome to enjoy views of the lake and the scenery of the campus from the lakeside picnic tables.
The public sessions are free and held weather permitting.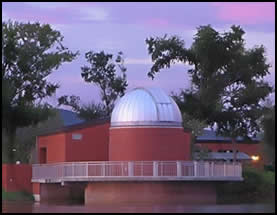 Here is the schedule for 2023/24:
FSW Observatory
Sep 8, 2023
Oct 13, 2023
Nov 10, 2023
Dec 8, 2023
Jan 12, 2024
Feb 9, 2024
Mar 8, 2024
Apr 12, 2024
May 10, 2024
Our observing team also sets up solar telescopes on the 4th Saturday of the month (from 9am - Noon) to look at the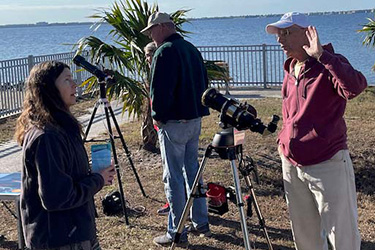 Sun, looking for solar flares, prominences and other solar phenomena.  All events are in Port Charlotte or Punta Gorda.
Solar Observing/Park 
Sep 23, 2023-Ponce deLeon
Oct 28, 2023- Bayshore Live Oak
Nov, 25 ,2023- Gilchrist
Dec 23, 2023-Ponce deLeon
Jan 27, 2024-Bayshore Live Oak
Feb 24, 2024-Gilchrist
Mar 23, 2024-Ponce deLeon
Apr 27, 2024-Bayshore Live Oak
May 25, 2024-Gilchrist
Seahawk Park Public Observing Events For 2023
We meet at Seahawk Park for public observing events. Here's a list of events for 2023/24:
Sept. 16th
October 14th
November 11th
December 16th.
2024 dates to come.
Seahawk Park is a place where Cape Coral and other residents can fly their remote control airplanes. This 13.5 acre neighborhood park is a wide open area with a landing strip built to service radio controlled airplanes and helicopters.  It's a great place to set up our telescopes after the flying is done for the day.
Rules for use of Seahawk Park
Setup is at sunset after any remote control crafts are finished.
We setup in the area between the fences either on the concrete or grass.
The paved runway is off limits.  Vehicles are to remain in the parking lot.
Any observing there outside of these dates needs to be coordinated with Brian as we need to clear it with CCP&R and the RC group.
We have a letter from the city listing these dates and that we may be there on other dates.
The address to Seahawk Park is:
Seahawk Park
1030 NW 28 Street
Cape Coral, FL 33993 
---
STAR PARTY PROCEDURES
The Southwest Florida Astronomical Society, Inc. Hosts public star parties, for anyone who is interested in astronomy!  The schedule for the 2022-23 season will be posted in the Fall of 2022.
---
All observing events are Weather Permitting. If it is cloudy or a chance of rain, we may not setup at all. There may be no way to provide advance notice of cancellation. Events may be cancelled several hours before scheduled time based on observed conditions and forecasts at that time and weather may change.
---
STAR PARTY ETIQUETTE:
Bright white flashlights are NOT welcome. We use RED flashlights to preserve  our night vision.  At the parks, please use just parking lights if possible.  As there may be cords and tripod legs that are hard to see in the dark, we ask that all children are well behaved and cautious around the telescopes. If you need help in moving around in the dark, just ask. Someone will be happy to guide you with a red light. If you have a telescope and need help with it, just ask. Someone will be glad to show you how to use it.
---
GOLDEN RULES TO TELESCOPE OBSERVING:
Move your eye to the telescope, don't try to move the telescope to your eye! Ladders/chairs are there for your support, the telescopes do not provide support and should not be touched.
---
Just got a new Telescope (or had one collecting dust)? Not sure how to use it? Bring your telescope out to one of our public star parties check the calendar on our front page for upcoming star parties! Looking for a Telescope? Not sure what telescope is best for you? Stop by one of our star parties and check out some scopes that, The South West Florida Astronomical Society, Inc. will have available. Monthly Star Party Locations: These are held at either Seahawk Park in Cape Coral Florida, or at Caloosahatchee Regional Park (CRP) off SR78 7 miles east of SR31. Other than fees noted, these are free and open to the public. Those wanting to learn how to use equipment can bring it to the monthly star parties or the monthly meetings. We are always glad to help people learn how to use their telescopes. It is also a great way to learn about the different telescopes and try some out before making a purchase.
---
BIG CYPRESS NATIONAL PARK:
Big Cypress is one of the darkest places in Florida, a Bortle 2-3 site.  Our field trips can be several single members or a larger group.  We strive for a larger, more organized group, and usually shoot for the new moon timeframe.  Sometimes weather makes this challenging so we have to adjust a day or two one way or another.  Contact Mike Jensen if you're interested.
---
SEAHAWK PARK:
Seahawk Park is in North Cape Coral off Wilmington Blvd. (Nelson Rd or Chiquita Blvd are the nearest cross streets.) There is a brown sign in the center of the median at the entrance to the park. (GPS may not get you to the park, as some of the local roads have been closed.) Address: 1030 NW 28th St, Cape Coral, FL 33993 (Directions using Google Maps HERE) You will make a big J hook before getting to the parking area. Seahawk Park is managed by the Cape Coral R/Seahawks Club for Radio Controlled Planes and they have priority. They are usually done by sunset but maybe there before sunrise. Park in the lot and transport your equipment to the concrete staging area before the runway. This park is handicap capable as there is level concrete leading from the parking to the staging area.
---
CALOOSAHATCHEE REGIONAL PARK:
CRP (Caloosahatchee Regional Park) has a gate that closes at dusk, you can check the county's website for current gate closing times and the status of the parks North side entrance as that is where we observe from. (They may close the area if there is issues with the trails.) There is a parking fee of $1/hr or $5/day at CRP. Park is in the main North side parking lot. We sometimes setup down the dirt road that goes to the east. That area is grassy and may not be level, so one should walk on the dirt road as much as possible and watch their step. Address: Caloosahatchee Regional Park as 19130 N River Rd, Alva, FL 33920 (Directions using Google Maps HERE)
---
BIG CYPRESS:
Big Cypress: The Big Cypress Visitor Center is located off US41 5 miles east of SR29 about 25 Miles east of Naples. Big Cypress has earned a Dark Sky designation. They hold observing events down the road that extends south of the Visitor Center during the winter months. This is a real dark sky site. Their observing events are free. 33100 Tamiami Trail East Ochopee, FL 34141 (Directions using Google Maps HERE)
---
SOLAR EVENTS:
We have  daytime solar events where one can safely look at the Sun. Things such as sunspots are prominences  may be visible. These are free unless tied to another event may have an entrance fee. There are seasonal monthly events held at different parks around Charlotte County as well as at other major public events in Southwest Florida.
---
ROTARY PARK STAR PARTY:
This is a free public star party held at Rotary Park at the south end of Pelican Blvd in South Cape Coral. Park to the west of the main building and walk to where we are setup to the east of the main building. Address: 5505 Rose Garden Rd, Cape Coral, FL 33914 (Directions using Google Maps HERE)
---
MOORE OBSERVATORY,  FSW Punta Gorda Campus:
The campus is located off Airport Rd just east of I-75. Go to the right around the lake and park. The observatory is located down the path along the lake. Besides the telescope in the observatory, additional scopes may be set up around the observatory. This is a free event. Address: 26300 Airport Rd, Punta Gorda, FL 33950 (Directions using Google Maps HERE)
---
We hope to see you at our next star party.